If you're running a small business, you're in for early success! Nevertheless, blockchain, AI, and IoT have opened significant modernization opportunities. This means it's time to look for consulting firms to help you on your digitalization journey.
A correctly implemented digitalization strategy can act like a rocket boost to your company's ability to grow. Studies have shown that the right strategies can result in a 10 to 20 percent reduction in production and supply chain costs, a 15 to 30 percent reduction in working capital, and up to 6 percent revenue growth.
Instead of starting your search for a digital consultant with the Big 4 – Deloitte, Ernst & Young (EY), KPMG, and PricewaterhouseCoopers (PwC) or with one of the large consulting firms, you can now take advantage of agile HR strategies and embrace digitalization choose independent digital experts. After all, traditional consulting firms charge you generously for their services. If you are a smaller business, you want to digitize more cost-effectively.
So here is your new consulting model: Hire digital consultants from freelance networks! In this way, your company gains practical knowledge at a better price-performance ratio. Additionally, if you find these independent experts through a trusted network, you can be assured that they will continue to provide you with the following essential consulting services:
Designing a "big picture" solution for your specific organization.
Creating a technical roadmap for how you will implement the solution.
Offer support to build consensus between stakeholders and management and promote employee engagement.
Down-to-earth digital consultants offer valuable insights.
This agile consulting model, which relies on freelance experts, aims at the essence of consulting from a pragmatic and practical perspective. That's because large, established consulting brands often try to figure out how new technologies work and impact the industry. For this reason, they are often not the most knowledgeable source when figuring out how to navigate the practical aspects of digitalization.
Whose opinion do you trust more? A consultant who deals with digitalization in the automotive industry and advised on introducing AI? Or a former plant manager who led a company's AI automation, who had trouble getting employee buy-in, had to deal with faulty machines, and ultimately made the program a success?
When it comes to a new digitalization strategy, you will find valuable talent with experience in practice rather than just in theory. This means that you should look for digital pioneers whenever possible. These are the ones who have expertise in the technical timeline and in-house training and can make your digitalization strategy a success.
"By far the greatest opportunity for large companies lies in the digitalization of internal processes." – Jack Welch.
Also Read: Why digital transformation is so significant and how to master it
Make sure the whole company is on board.
Self-taught experts who know what works and what doesn't can give you valuable advice on the nuts and bolts of implementing a digital strategy. However, it is essential to involve everyone in this new initiative. If you've ever had to implement a new way of operating an assembly line or shipping materials, you know that even small organizations get stuck in business as usual. That's why McKinsey & Company reports that in established industries with a track record of success with the status quo (e.g., oil and gas, automotive, infrastructure, and pharmaceuticals), digital transformation success rates range from 4% to 11%. A lack of consensus and internal support is often to blame.
Even if your technical roadmap is well-defined and your digital capabilities are built toward a clearly defined goal – in other words, even if your digital advisor has fully delivered on their promise to create a solution – it takes more than an abstract vision to achieve rocket-powered success.
Suppose you want to get your digitalization strategy off the ground to automate essential processes, reduce errors and material waste, and communicate seamlessly with your purchasing customers. In that case, the entire company must support the digital vision.
For this reason, you should involve digital consultants. They are adept at understanding organizational obstacles, defusing internal conflicts, and building the consensus needed to take your digitalization initiative from the cubicle to the factory floor.
Your best chance for digital success for SMEs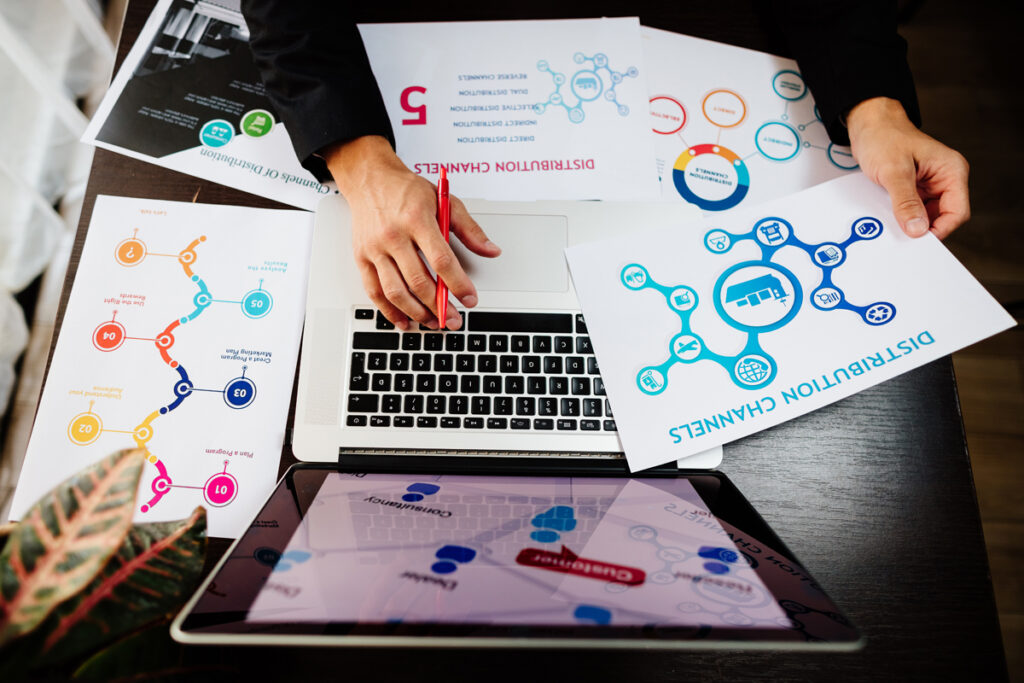 Combine industry expertise and consulting know-how! Digitalization experts offer pragmatic advice on digitalization on-site. Traditional consultants, meanwhile, provide the consensus-building soft skills to get your initiative off the ground. It makes sense to consult both sides.
As a result, it may be better to rely on consulting services focusing specifically on your digitalization strategy as a medium-sized company. So look for top management consulting talent while ensuring the people you hire have common sense and industry knowledge.
If you decide to go this route, we recommend evaluating your needs beforehand and clarifying which digital specializations are required for your project. It is always better to pursue a digitalization strategy. In a survey of various companies, the Boston Consulting Group found that 29% of companies used technology without knowing whether it would pay off in the long term.
Should you connect with our freelance network of independent digital professionals and consultants, we'll help you determine precisely the expertise you're looking for, whether that's blockchain, digital product management, or marketing ROI. This way, we support you on your way to a successful, cost-effective digitalization initiative with digital consultants who offer real added value!