Many people enter the business world with just an idea. However, with proper strategic planning, your new venture will succeed. The first step in the right direction is to create a business plan.
What is a Business Plan?
A business plan is a formally drafted document that mainly consists of three things:
The company's goals.
How do you want to achieve these goals?
The timeline for achieving these goals.
Your business plan should serve as your roadmap to success, with practical and actionable steps.
"Plan for what is difficult while it is easy; do what is great while it is small." – Sun Tzu.
Why does every entrepreneur need a plan like this?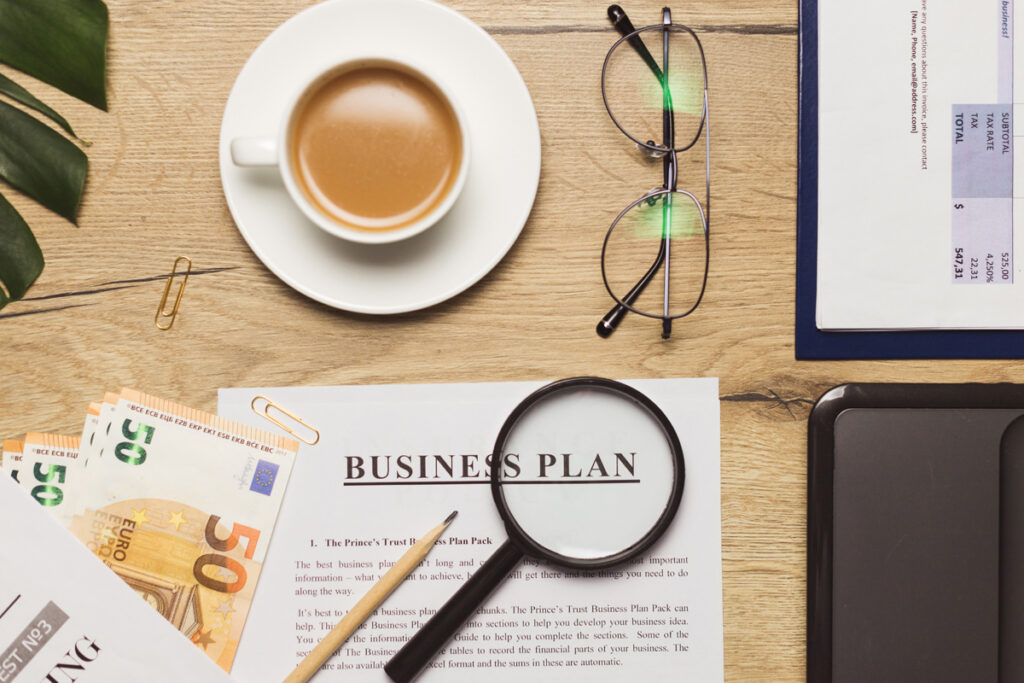 There are many reasons why every entrepreneur needs a business plan, regardless of the service, product or industry. Below are the most important reasons:
A business plan serves as a guide.
The business plan is a strategy. This needs to be adapted to what is happening and is a good starting point for strategic planning.
It's a look into the future (but only 3-5 years)
For many, wrapping an entire company into one business plan can be daunting. This is because they need to understand that you don't have to plan and project the whole existence of a company. Instead, a business plan should only extend 3-5 years into the future. Break down your project into smaller parts. What is the goal for sales, marketing, operations, etc.? So, a business plan is not a document containing an extensive, overarching strategy but several mini-plans.
He helps you achieve your goals.
You can't achieve your goals if you don't know them. This is why it is essential to be detailed when creating a plan. You should also ensure that each business milestone has a specific date.
A business plan can get you financing.
The first thing a bank or investor will ask you when you present a business idea for funding is your business plan. This reassures investors that you have thought through and strategically planned the business and that your company is viable. This means they know that their investment will pay off. Consequently, you should remember all this vital information when creating a business plan.
How to write a business plan
Writing a business plan is relatively easy. For strategic planning, it is only necessary to work your way from point A to Z. To make your life a little easier, we have put together a practical guide below to help you create your plan step by step:
Write an executive summary
This overviews your business and determines whether anyone wants to deal with your business plan. To say this is an essential part of your plan would be an understatement. Make sure your summary is no longer than one page and contains the following:
Your business concept (what the company does)
Goals and vision (what you want to achieve)
Product/service description and differentiation (what you offer and why it is different from others)
Your target market
Your marketing strategy
The current financial position of the company
The likely future financial situation of the company (forecasts)
The requirements (this is only necessary if you need to present a business plan to the bank, investors or potential partners and explain your expectations/requirements of them)
The team (who is currently working at the company and who do you want to hire)
Write a company introduction.
Here, you introduce your company's core and explain why it exists. The introduction should contain the following information:
What the business is officially registered as (partnership, sole proprietorship, etc.).
What industry do you work in?
The primary business model.
The vision, mission and value proposition of the company.
A brief overview of the company's history (if any).
Goals of the company (long and short term).
The employees and their salaries.
Conduct a thorough market analysis.
In this section, you should delve deeper into your target market. Who is your potential customer? How big is your target audience? What about the competition? Where do you see your company's position in this landscape? This section requires extensive research, a thorough SWOT and competitive analysis, and educated guesswork.
Draw a floor plan of the management and organizational structure.
This is usually better understood in the form of an organizational chart. It's also a good idea to add a few paragraphs about each team member, detailing their role and what they bring to the table. This ensures the growth of the company.
Make a detailed list of all products and services.
Describe your products and services (we also recommend adding images for products). Describe what they include, what the prices are, what makes them profitable and what other unique selling points they have.
Perform proper customer segmentation.
At this point, you describe the already defined target group in more detail—everything from age, income, location, etc.
Create your marketing plan.
This should be simple so that everyone can understand it but detailed enough to be measurable. The following points should be included:
The product or service you want to bring to market.
The launch date.
The sales target.
All actions related to achieving this goal, including their deadlines.
Create your logistics and operations plan.
In this section, you should specify the following details:
Suppliers
production
Facilities
equipment
Shipment
Stocks
Of course, this information will vary depending on whether your company is product or service-oriented.
Explain your finances
This is one of the most critical sections of your business plan, especially if you are seeking investment or financing. You should provide the following information:
Profit and loss statement
Balance sheet
Cash flow statement
Conclusion
There is no one right way to write a business plan. However, if you need help figuring out where to start, search for free templates online or purchase business plan software. This will help you write the plan in a form widely understood and accepted by official institutions and professionals. There are three types of business plans: the traditional, the lean (a shorter version of the conventional), and the non-profit (these usually have additional sections).